Polarcus data coverage over key blocks in Australia's 2020 exploration acreage release
7 Sep 2020
The Polarcus Cygnus multi-client 3D dataset is designed to address the geological challenges and limitations of the available legacy data within this proven hydrocarbon province, providing a basin-wide, high quality broadband 3D seismic dataset to exploration companies.
Bidding has now opened on a number of new offshore acreage areas available for oil and gas exploration offshore Western Australia. The areas on offer include blocks AC20-4 and AC20-5 in the Vulcan Sub-Basin, these are covered by the state of the art Cygnus multi-client 3D dataset available for licensing from Polarcus.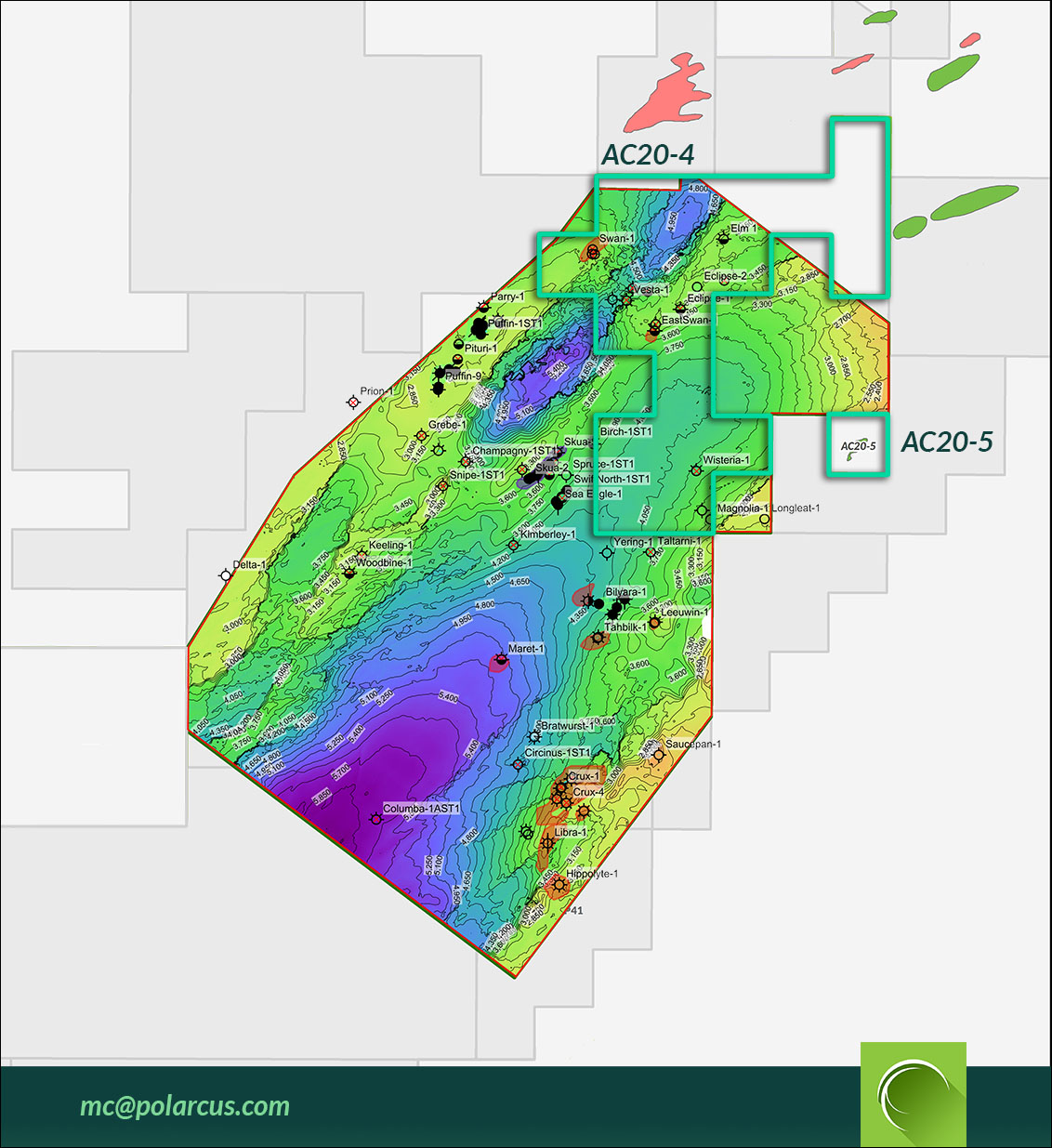 The 2019 Bratwurst exploration well, drilled within title AC/P64, has shown the potential of the Vulcan Sub-Basin which is now being unlocked using the new Cygnus data. The AC/P64 area had previously been considered non prospective when reviewed using legacy data. The new Cygnus data however clearly showed the amplitude supported prospect. Review of the now available AC20-4 and AC20-5 areas has shown a number of new leads identified using the new Cygnus data, these include not only traditional plays in the area but new plays such as the deep Permian carbonates and Jurassic sand bodies now seen in the Swan Graben.
Bidding for these blocks will be open for 9 months and will close on Tuesday 1st June 2021.
The Cygnus dataset is available now to support review of these exciting blocks, allowing the determination of bidding strategies using the best available data.
Contact
Andrew Lambert
+971 (4) 4360 949
andy.lambert@polarcus.hop.rocks
About Polarcus
Polarcus (OSE: PLCS) is a focused geophysical service provider of safe and environmentally responsible marine acquisition services globally. Our geophysical offering is driven by innovation and collaboration to provide clients with better seismic data faster. Polarcus operates a fleet of high performance seismic vessels with 3D and 4D imaging capabilities, which incorporate leading-edge technologies for improved environmental performance and operational efficiency. Polarcus offers contract seismic surveys and multi-client projects with advanced priority processing solutions including Cirrus, a suite of cloud-based applications and services designed to bring clients closer to acquired seismic data, enabling faster and better informed exploration decisions. The Company services its clients globally from its head office in Dubai and regional offices located in Houston, London, Singapore and delivers Group asset management services from Oslo. For more information, visit www.polarcus.com
For more updates from Polarcus follow us on Twitter (@Polarcus) and LinkedIn (linkedin.com/company/Polarcus).